Tough, robust mining auction software for industrial auctions
We can provide you with an online mining auction software platform that is secure, feature-rich, intuitive, and easy to use.
That's why we've provided auctioneers around the globe with user-friendly and feature-rich online auction software that's built to drive the mining and industrial asset sales online.
Our trusted auction software is used all over the world, and is commonly used for purchasers of heavy machinery and industrial equipment. The platform is built using the latest cloud-based web technologies. Meaning that your auctions run seamlessly across all modern devices including mobile phones, tablets, desktop and laptop devices without the need for apps.
The system caters for all timed, pre-bid and webcast auctions, so you have endless opportunities for selling your mining and industrial assets online. What's more, our online marketplace feature provides a simple place to access "for-sale" items that aren't necessarily up for auction. In this way, we can provide you with a full-suite of online auction tools to facilitate the sale of assets online.
Jam packed with features that your bidders will love
The system includes a built-in smart filtration mechanism as standard equipment. Sort your items into categories such as excavator, trucks, tractors, hoists, heavy hydraulics, etc. The nicest thing is that the filtering method gives you the freedom to be as precise as you like!
Features like maximum bidding, bid extension, lot staggering, and outbid notifications are included as standard in the system for timed auctions. These are wonderful characteristics that you can be sure your bidders will like.
Bidders have the choice to place pre-bids before and during a sale if webcast auctions are being performed so that they have every opportunity to place an online bid. Bidders receive bid notifications, real-time feedback, language and currency conversion settings, and real-time video and audio streaming to give them everything they need to create an immersive online experience.
Smart admin functions to make organising auctions a breeze
With our software, organising your online mining and equipment auctions will be a breeze.
With built-in sale and bidder management, and a smart invoicing and payment gateway platform as standard, your administrators will be equipped with all the tools to run full auctions from a web-enabled browser.
What's more? World-wide support and marketing assistance comes as standard for our auctions. Get in touch with us to find out more about how we can help your business today.
Online auction solutions for your business
🎥 Live Webcast Auctions
⏳ Timed Online Auctions
📈 Marketplace
👩‍💻 Remote Clerking option
✅ Everything you need & will run from your own website
🏷 White Label Auction Software – 'value protect your bidders & IP' ( Not a group site
)
So modern works on all devices without frustrating bidders to download apps
🧑‍💻 Includes Setup, Training & Local Ongoing Support
🧾 Auction invoicing & reporting
🖥 Websites & marketing
😊 Simple for bidders and powerful for auctioneers
So ready to get started?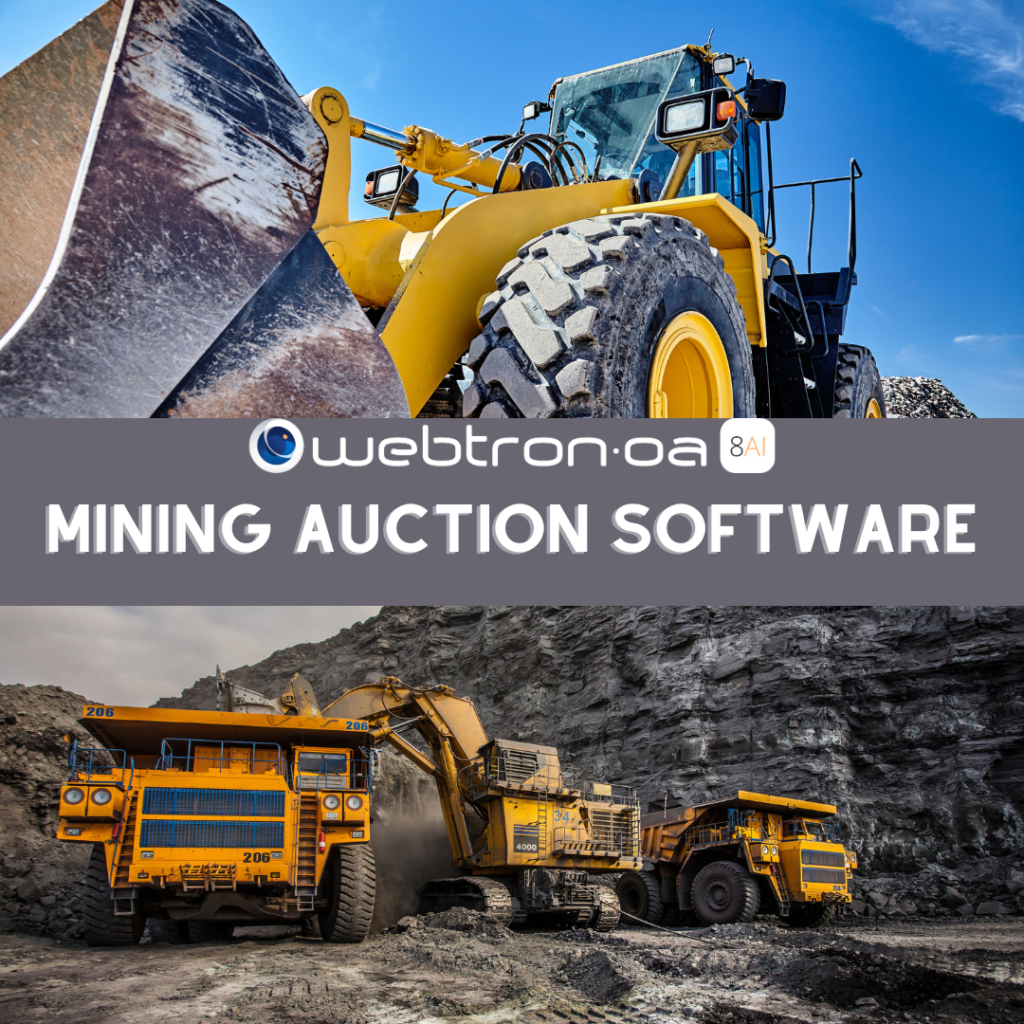 Webtron 8.0AI Auction Software is here!
There has never been a better time to upgrade to Webtron's 8.0AI newest artificial intelligence auction software release.
Webtron 8.0AI is a white-label auction solution that runs from your own website. Take your online auction business to another level and take advantage of an auction solution designed for Mining auctioneers just like you!
Our Motto at Webtron is, 'Simple for bidders and powerful for auctioneers'.
Take the first step toward a successful auction business and arrange a demo today!
FAQs
What is mining auction software for auctioneers?
Mining auction software for auctioneers is a software tool designed to facilitate the auction process in the mining industry. It streamlines the bidding process, manages multiple auctions simultaneously, and tracks the progress of each auction in real-time. The software enables auctioneers to list items for sale, set a starting price, and conduct online auctions in real-time. Bidders can place bids on the items they want to buy, and the software manages the auction process, ensuring that all bids are recorded and the highest bidder wins.
How does mining auction software benefit auctioneers?
Mining auction software benefits auctioneers in several ways. Firstly, it allows them to manage multiple auctions simultaneously, increasing their efficiency and profitability. Secondly, it provides an online platform that enables bidders from all over the world to participate in auctions, expanding the auctioneer's customer base and potentially increasing the final sale price. Additionally, the software tracks the progress of each auction in real-time, providing auctioneers with valuable data that they can use to make informed decisions about future auctions. Finally, the software automates many of the administrative tasks associated with auctions, reducing the workload for auctioneers and enabling them to focus on other aspects of their business.

What features should I look for in mining auction software?
When selecting mining auction software, there are several features that you should look for to ensure that the software meets your needs. Firstly, the software should be easy to use, with an intuitive interface that allows you to list items for sale, set starting prices, and manage the auction process. Secondly, it should have robust bidding functionality, enabling bidders to place bids in real-time and ensuring that the highest bidder wins. Additionally, the software should provide a range of tools to help you manage multiple auctions simultaneously, including automated auction scheduling, detailed reporting, and the ability to track bids and bidder activity. Finally, the software should have strong security features to protect sensitive data and prevent unauthorised access to the auction platform.



To learn more use the contact form below.